Outdoors
The villa is situated in a wonderfully spacious garden of more than 4500 m2. The terrain is slightly shaded and has, in addition to some flowering borders with irises, rosemary, lavender, roses and oleanders, also olive trees and a few large shady trees and behind, around the tennis court, even a piece of forest with rocks and 'pin maritimes'. There is ample parking space for cars in the garden. Via a wide, not steep staircase you walk between the lavender and oleanders up to the entrance of the house on the porch. There are several terraces with seats. The main terrace is situated on the side of the house, partly in the shade of a few trees, partly in the sun or, if desired, in the shade of the parasol. It is located near the porch and the kitchen and therefore quickly accessible from here. There is a fixed outside barbecue on this terrace. To the side of and behind the house are several terraces, 'plateaus' in the garden, one of which, in the shade of a huge pine, is the jeu de boules court. Furthermore, a terrace with olive trees and the washing line. All the way down in the garden, in front of the swimming pool is a field with a volleyball / badminton net where you can play nicely. A game of friendly tennis can already be played on the tennis court to be renovated. There is a large amount of garden furniture available sufficient for everyone to sit comfortably.
Veranda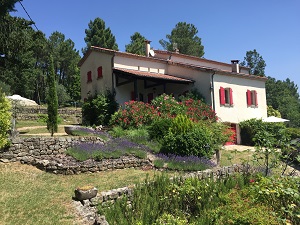 From the porch, which also has a small garden table and some relaxing chairs, you have a beautiful view of the oleanders, where the villa owes its name to and the surroundings. You can enjoy a cup of tea or coffee in the morning here, have a little siesta in the afternoon or have a drink in the setting sun. There is lighting available so that you can relax here even in the evenings.
Swimming pool
The extra large, newly renovated swimming pool measures 7m x 15m, is 1.5m deep and is completely fenced. It has a so-called Roman staircase to enter the pool which makes it a nice place for young children to play on. There is a large terrace with lots of space and sun loungers to relax between swimming, read or watch the fellow holidaymakers enjoy themselves in the water. There is also a toilet and an outdoor shower as well as a cozy 'pool house' with a bar. There is lighting in the pool house, but because the house is in a small residential area, we kindly request that you no longer use the swimming pool and associated space in the evening after 10 pm, in order to prevent nuisance to neighbors.