Indoors
The entire house is spacious and has shutters for all the windows that can keep the house nice and cool in the summer, if closed in time.
Ground floor
From the porch you enter the large hall through the wide front door. On your left handside you will find the light, modern and well-equipped kitchen with a large fridge with freezer compartment, a dishwasher, an oven, a microwave and induction hob and a large dining table. Everything is there to prepare a delicious breakfast, lunch or meal. From the kitchen you can walk through the patio doors onto the veranda or directly into the garden. On the right-hand side, through some glass doors, you enter a second spacious hall from where you can enter the living room. The living room is nicely furnished and has a large fireplace including a wood stove, a sitting area with TV and a dining area.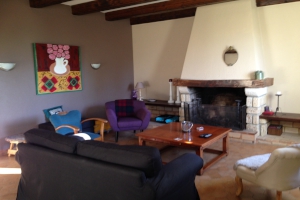 The second hall leads into a long corridor with 3 bedrooms.

Bedroom 1 is a master bedroom of 18 m2 with a 2p box spring of 1.80 x 2.00m. The bedroom has a bathroom en suite with bath, shower, sink and toilet, which can also be reached via the corridor. Bedrooms 2 and 3 : 13m2 with two single beds of 0.90 x 2.00m that can be placed separately or together. There is a built-in wardrobe and a cupboard with a fixed sink.

In the long corridor there is also a separate toilet with wash basin and a modern bathroom with shower, washbasin and hanging toilet.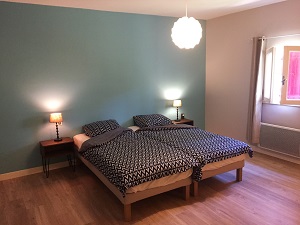 First Floor
From the first hall, a wide staircase leads to the hall on the first floor. On the right you will find Bedroom 4, a spacious bedroom of 16m2 with a comfortable box spring of 1.60x2.00m, a sitting area and a bathroom en suite with a walk-in shower, sink and toilet.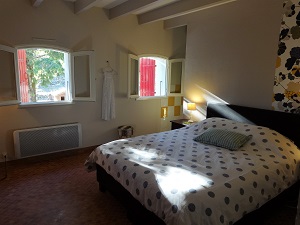 Through a door you can join a second spacious hall which gives access to the last two bedrooms in the house. Bedroom 5 is over 20 m2 and has again two single beds of 0.90x2.00m that can be placed separately or against each other. Here too a bathroom en suite with a walk-in shower, washbasin and toilet. Bedroom 6 is with 40 m2 the largest bedroom of the house. There is a high ceiling and a beautiful beam construction. In this room you can find a luxury box spring of 1.80x2.00m. Optionally, 2 beds can be added if desired. There are built-in wardrobes and a bathroom en suite with a walk-in shower, sink and toilet. A seating area completes this room.
Basement
You can enter a part of the basement via a closed staircase or from the outside. Here can be found the washing machine and there is room to store any bicycles, walking shoes or other things that you might have brought with you.